Fall Newsletter
August 2023 | Pennsylvania | West Mifflin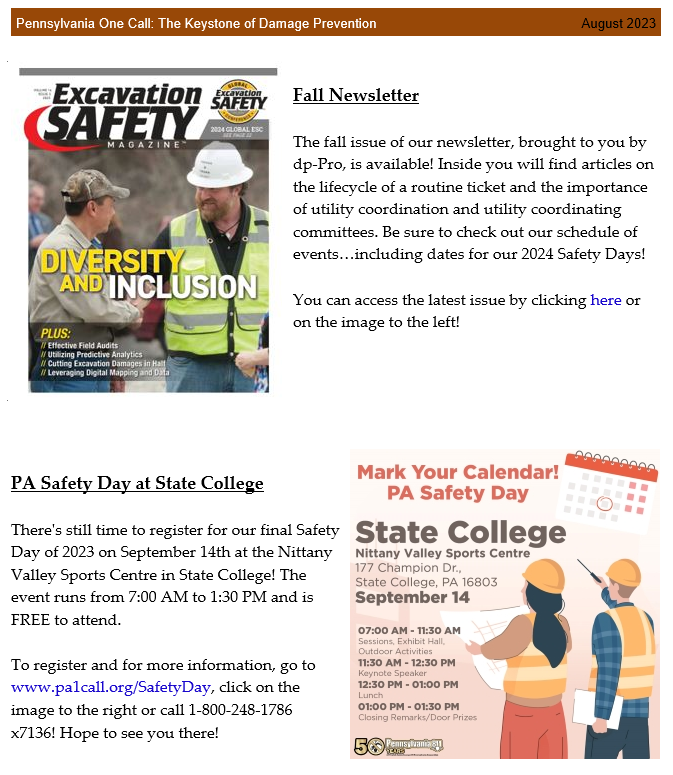 To access the Fall Newsletter, scroll down to Current Magazine Issues.
---
IMPORTANT RELEASES

August 2023 | Pennsylvania | West Mifflin
August 11 (8/11) Serves as a Convenient Reminder for Pennsylvania Residents to Always Contact 811 Before Digging
Pennsylvania 811 encourages everyone to contact 811 three business days before digging to avoid damaging buried utilities
Aug. 11 is almost here, and with over 50 years of service to the Commonwealth, Pennsylvania One Call System hopes that the 8/11 date on the calendar will serve as a natural reminder for residents to contact 811 prior to any digging project to have underground utility lines marked. Every few minutes an underground utility line is damaged because someone decided to dig without first contacting 811.
When contacting 811, homeowners and contractors are connected to Pennsylvania One Call System, the local 811 center, which notifies the appropriate utility companies of their intent to dig. Professional locators then arrive at the dig site to mark the approximate locations of underground lines with flags, spray paint or both.
Striking a single line can cause injury, repair costs, inconvenient outages and fines. Every digging project, no matter how large or small, warrants contacting 811 by phone or online. Installing a mailbox, building a deck, planting a tree and laying a patio are just some examples of digging projects that require an 811 request at least three days before breaking ground.
"On Aug. 11 and throughout the year, we remind homeowners and professional contractors alike to use the 811 service before digging to reduce the risk of striking an underground utility line," said Bill Kiger, President & CEO of Pennsylvania One Call System. "Calling 811 or visiting www.paonecall.org is really the only way to know which utilities are buried in your area so that you can dig safely."
The depth of utility lines can vary for a number of reasons, such as erosion, previous digging projects and uneven surfaces. Utility lines need to be properly marked because even when digging only a few inches or digging in a location that's previously been marked, the risk of striking an underground utility line still exists.
Visit www.paonecall.org for more information about 811 and safe digging practices.
To access 811 Day materials used to promote safe digging, click here.
April 20, 2023 | Orlando, FL | CGA Conference & Expo
The Common Ground Alliance (CGA) recognized this year's pioneers in damage prevention. Khrysanne Kerr, Vice President, Marketing and Outreach, officially inducted Ellen Kiger, Vice President and COO, Pennsylvania One Call System, Inc., into the Hall of Fame at their annual meeting. The award honors CGA member that have served in the organization over a long period of time and whose impact has left its mark on the organization in a positive and memorable way.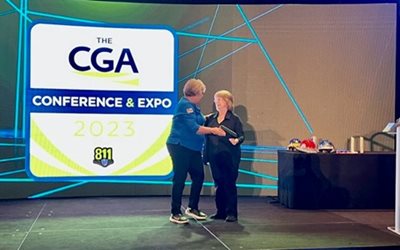 For 47 years, Ellen Kiger's thought and process leadership for people and technology has advanced One Call and Damage Prevention for stakeholders in Pennsylvania and beyond. Ellen Kiger has been serving the damage prevention community for 47 years. Her journey began as a switchboard operator for Robbins Answering Service in 1974. Ellen became Supervisor of their emerging One Call account in 1976. In a groundbreaking moment, Ellen was the first individual to take a fully computerized ticket with immediate transmission to underground facility owner members.
Ellen's career grew as she nurtured One Call needs for seven states and provinces at previous vendor-run call centers: On-Line Systems, United Information Services and One Call Systems, Inc. Transitioning to a non-profit director role at Pennsylvania One Call System, Inc. in 1987, today Ellen masterfully leads the people, telephony, and technology and serves the Board of Directors as Pennsylvania 811's Vice President and Chief Operating Officer. Ellen's extensive knowledge continuously advances Damage Prevention processes as she contributes her insight with the industry.
Nationally, Ellen was and is a member of the American Public Works Association, was at the table for One Call Systems International (OCSI) and joined the Common Ground Alliance (CGA) at its inception in 1999. She participates on the CGA committees for Best Practices, Data Reporting & Evaluation, and One Call Systems International. Ellen co-chaired the OCSI Committee from 2015-2017.
Ellen's intellect and voice of reason supports the team at Pennsylvania 811. She continues learning and guiding others in a constant pursuit of overall best practices and processes, customer service, and technology to serve Damage Prevention stakeholders in Pennsylvania and beyond.
Congratulations, Ellen.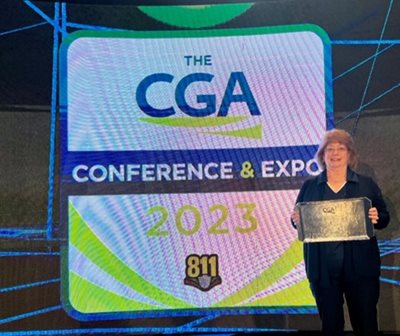 Previous Hall of Fame inductees from Pennsylvania were William Kiger, President and CEO, Pennsylvania 811 (2007), Bill Boswell, Legal Counsel (2008) and Eric Swartley, UGI Utilities (2021).
April 2023 | West Mifflin, PA
To All PA One Call Communications and Broadband Members,
Request for Spatial Information needed to help expand the Pennsylvania's Fiber Broadband network for Rural and underserved areas in Pennsylvania.
The Pennsylvania Broadband Development Authority (PBDA) is requesting that you share your information. Please contact Kyle Snyder, AICP - Kysnyder@pa.gov. 717-787-6500 with the Department of Community & Economic Development in order to share information. Thank you for your cooperation.
As this build-out has already begun with funding from the Pandemic Infrastructure Bill you may already been seeing the impact. We strongly recommend working together through "Coordinate PA" to Coordinate and Collaborate all Projects to make all the dollars go as far as possible towards reaching the goal of bringing affordable Broadband to all areas of the Commonwealth SAFELY! Please review the Coordinate PA (CPA) and Complex Project information.
We encourage the use of CPA and the Regional Coordinating Committees to advance Broadband communications and all excavation projects. More than 40,000 projects have been entered to facilitate the "Dig Once" philosophy promised by DOT and the PBDA. I should point out that there is aerial work involved in getting this message effort done. CPA can be used to communicate that work as a part of these projects, as well.
Broadband Projects have already caused damage to facilities in Pennsylvania. Contractors just getting into this business or coming into PA from other States need to be aware of Act 50 and "HDD Good Practices" Section 5.(11.2). For more information on the requirements of CPA, please contact your PA One Call Damage Prevention Liaison.
Again, please contact Kyle Snyder to share information with the PBDA.
In SAFETY,
William G. Kiger
President & Chief Executive Officer, Pennsylvania 811
March 2023 | West Mifflin, PA
The Pennsylvania 811 Board of Directors have mandated that effective April 21, 2023, all Preliminary and Final Design Notifications must be created in Pennsylvania 811's Coordinate PA (CPA) Application.
CPA is Pennsylvania 811's web-based project coordination software tool for utility and public works project planning, design, and construction within Pennsylvania. Before, designers would either call 811 or use Pennsylvania 811 Web Ticket Entry (WTE) to place their 811 design notifications. Now, using CPA, Designers still get the same functionality of WTE, but also will have the ability to collaborate, plan, and project manage with all underground stakeholders on large and/or complex underground projects, from conception through construction, to prevent underground damages throughout the life of the project. Once the design phase is completed, the CPA project can be continued into the construction phase by the project owner or contractor who can place Complex Project and Routine notifications on the project.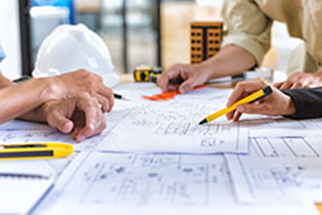 Section 4 of The Underground Utility Line Protection Act 287 as Amended requires that all Designers that are "preparing a drawing which requires excavation or demolition work within this Commonwealth: To request the line and facility information prescribed by Section 2(4) from the One Call System not less than ten nor more than ninety business days before final design is to be completed. This clause is not intended to prohibit designers from obtaining such information more than ninety days before final design is to be completed; however, they shall state in their requirements that such work is preliminary."
Not familiar with CPA? Have questions about Pennsylvania 811 Design process? Please contact the Pennsylvania 811 Damage Prevention Liaison in your area. Their contact information can be found at www.pa1call.org/liaisons.
Fall 2023

Highlights

The LIfecycle of a Routine Ticket
The Four C's of Utility Coordination
811 Day Recap (2023)
2024 PA Safety Day Conferences Dates & Locations Announced

Articles

Diversity Inclusion in the Damage Prevention Industry
Recommendations for a Field Audit
Utilizing Predictive Analytics to Manage Limited Resoures
The Reforms Needed to Cut Excavation Damages
Unearthing Value: Digital Mapping & Data for Compliance
Summer 2023

Read Articles

Highlights

Design Notifications and Coordinate PA
The Importance of Sign-In Sheets and Meeting Notes
2023 Safe Digging Month Campaign Recap
What's Happening at Pennsylvania 811

Articles

Potholing with Precision
Hydro- and Air-Powered Vacuum Excavation
The Economic Loss Doctrine in Utility Damage Cases
Utility Mapping and Hydro Excavation

Spring 2023


Highlights

Pennsylvania PA Safety Day Conferences
Identifying and Preventing Cross Bores in Pennsylvania
The Renotify Process and the Update Ticket
Spring 2023 Educational Programs in Pennsylvania
Coordinate PA

Articles

Good Locators & Listening to All Stakeholders
What is the "Danger Zone" when a Gas Line is Fractured?
Are you Sure That's Right?
Is There a Standard for Fiber Optic Installation?
Fiber Builds with Damage Prevention as a High Priority
Grafton Technologies Teams up--Norfield to Create Operational Efficiencies
Steps for Overcoming a First Amendment Audit in the Field
Minnesota Pilot Program Update: GPS Enabled Locating Systems
NUCA Star Shines Brightly for our Industry's Safe Jobsites
Locator Certification--an Australian Success Story
Locator Certification vs. Locator Competency

Winter 2022

Read Articles

Highlights

Why Use Coordinate PA?
Why Practice Good Safety Habits? To Return Home Every Night.
Trenchless Technology and Pennsylvania 811
Why Update Your Database?
Member Mapping

Articles

Saving Lives Through Education
Your Role in Recovery
Updated API Standard for Pipeline Public Awareness Programs
Leveraging Technology to Speed Up Locates
CGA's Next Practices Initiative
Damage Prevention By Design
The Benefits of Rigorous Utility Investigation for Project Management
Pipeline Task Force Update

2023 Excavation Safety Guide
Pennsylvania Edition

Highlights

Pennsylvania 811 Introduces Web Ticket Entry 4.0
Coordinate PA: The Next Generation of Utility Coordination
Pennsylvania 811's Coordinate PA
PA Act 287, as amended, User Guide

Articles

Understanding ROW Policies for Different Municipalities and Agencies
The Right Training
Infrastructure Investments and Jobs Act
Change: It may be difficult, but not changing can be fatal
Understanding the Marks
Locate Requests: Covering the Basics
Subsurface Utility Mapping and Using Wide Array Multi-Frequency
Getting More from your GPR Utility Data
Starting your own Locate Division as an Excavator or Contractor
Late Locates - Can improved communications be a "silver bullet"?