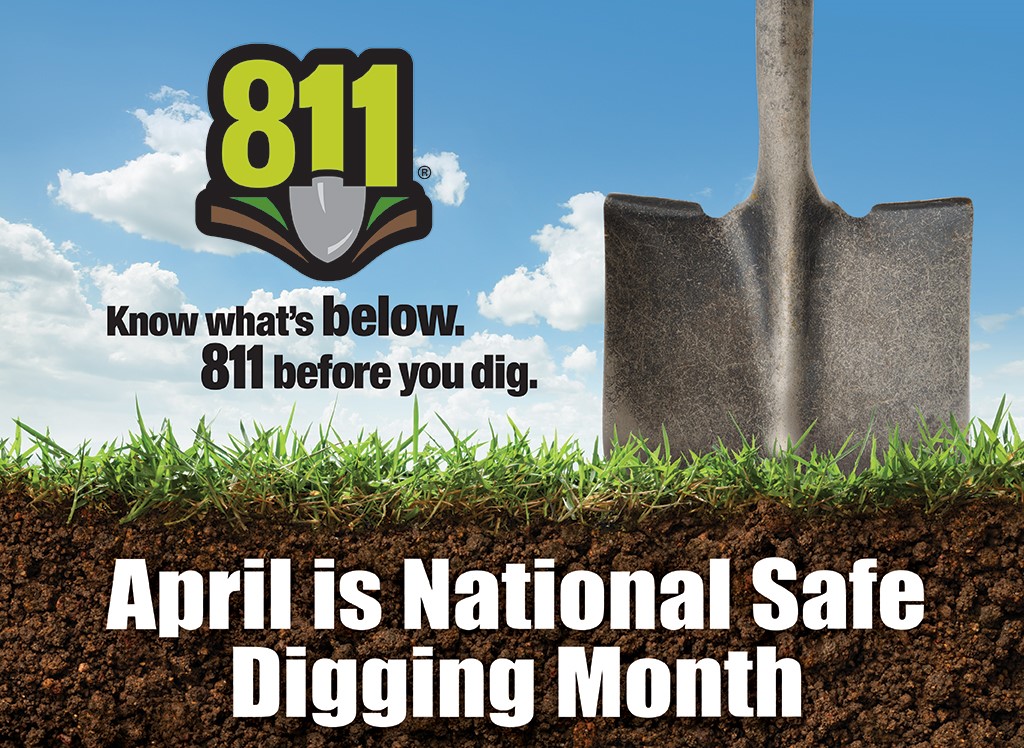 2023 PENNSYLVANIA 811 SAFE DIGGING MONTH CAMPAIGN
Safe Digging Month is an awareness initiative sponsored by Pennsylvania 811 for the month of April.
For over fifty years Pennsylvania 811's mission has been to prevent damage to underground facilities. To promote safety, we provide an efficient and effective communications network among project owners, designers, excavators, and facility owners. Since our inception in 1972, we have increased membership from 6 utilities in one county to over 3,700 underground facility owners and operators in all 67 counties. The service is available 24 hours a day, every day of the year.
The organization incorporated in 1978. The national 811 emergency number went live in 2008. Act 50 (2017) became effective on April 28, 2018, and the electronic "member mapping" service became a requirement for all members. In 2022, Pennsylvania 811 received close to 1,050,000 excavation notifications, and transmitted approximately 6.8 million notifications to their member facility owners and operators allowing essential utility and construction crews to provide vital underground services and repair to critical infrastructure to communities throughout Pennsylvania.
With the passage of the Bipartisan Infrastructure law and the Broadband Equity, Access and Deployment Program, we anticipate an increase in projects throughout Pennsylvania that will impact the construction industry as well as the underground facility owners.
We encourage everyone to get involved with promoting safe digging practices within your community. The call before you dig process helps to prevent injuries, property damages, inconvenient utility outages, and fines. Safe Digging is a shared responsibility among excavators, homeowners, facility owners, municipalities, cities and county level management and planners.
Traditionally outdoor projects start in the spring. Pennsylvania 811 Safe Digging Month serves as a reminder to all excavators and homeowners to call 811 at least 3 business days before you dig, so the approximate location of the underground utility lines can be identified and marked by facility owners.
Join us in raising the public's awareness of underground safety.
Most of our grassroot efforts include public awareness campaigns you can get involved with by using our graphics. The message is simple "Call 811 Before You Dig". You can promote in your publications, newsletters, invoices, brochures, social media, community marquees, council or municipal meetings.
For those who want to do more, you may contact us at contact@pa1call.org to discuss ways to share costs in advertising opportunities.
2023 SAFE DIGGING MONTH SUPPORTERS
Locations on Map (click here to view map details)
Proclamations, Resolutions and Letters of Support by Type
2023 Supporters of Safe Digging Month
Thank you to the following county officials, municipalities, facility owner members and Pennsylvania companies who are promoting safe digging practices within their communities and service areas this spring.

List of Safe Digging Month Supporters as of 3-30-2023


Proclamations, Resolutions and Letters of Support (listed by county)
Adams
Allegheny
Armstrong
Beaver
Bedford
Berks
Blair
Bradford
Bucks
Butler
Cambria
Cameron
Carbon
Centre
Chester
Clarion
Clearfield
Clinton
Columbia
Crawford
Cumberland
Dauphin
Delaware
Elk
Erie
Fayette
Forest
Franklin
Fulton
Greene
Huntingdon
Indiana
Jefferson
Juniata
Lackawanna
Lancaster
Lawrence
Lebanon
Lehigh
Luzerne
Lycoming
McKean
Mercer
Mifflin
Monroe


Montgomery
Montour
Northampton
Northumberland
Perry
Philadelphia
Pike
Potter
Schuylkill
Snyder
Somerset
Sullivan
Susquehanna
Tioga
Union
Venango
Warren
Washington
Wayne
Westmoreland
Wyoming
York
03-28-23 Sullivan County Commissioners adopt April as Safe Digging Month at their meeting. Maria White, Pennsylvania 811 Damage Prevention Liaison, was present to receive it from Commissioners Lannone, Hoffman and Fenton.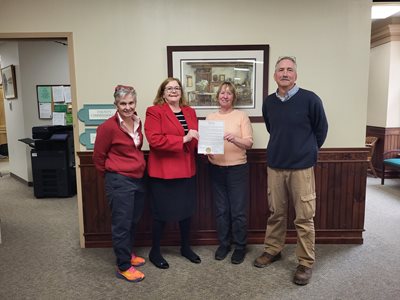 03-24-23 Bradford County Commissioners proclaim April as Safe Digging Month and will promote safety and responsiblity concerning excavations in the month of April. The Daily Review. Mark Lipka, Pennsylvania 811 Supervisor-Education, was present when Commissioners Daryl Miller and John Sullivan discussed safe digging practices during their meeting.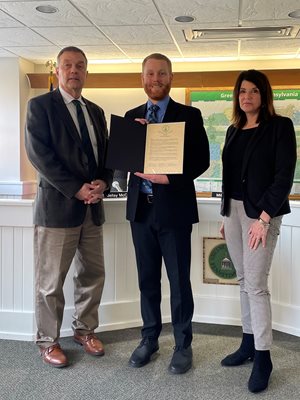 03-08-23 Indiana County commissioners approved a proclamation of April 2023 as "Pennsylvania 811 Safe Digging Month," hailing the initiative sponsored for over 50 years by Pennsylvania 811, a utillty notification information center. The Indiana Gazette
03-08-23 Utility Safety Resolutions Approved in Lewisburg, PA. The Union County commissioners on Tuesday designated April as Pennsylvania 811 Safe Digging Month. 811 is the national call-before-you-dig phone number. The Standard Journal release
03-08-23 Buffalo Township, Washington County promotes safe digging practices by encouraging everyone to join them in raising the public's awareness of underground safety.
03-07-23 Mayor Jennifer Fulmer Vinson of Clarion Borough presented a proclamation for Safe Digging Month to Kirk Kirkpatrick, Damage Prevention Liaison, at their Borough Council meeting on Tuesday, March 7. Clarion Borough, Clarion County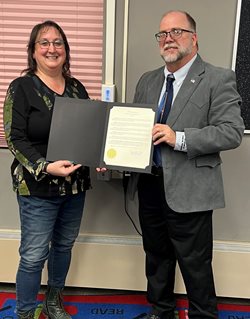 02-15-23 Commissioners Designate April as Safe Digging Month in Clarion County. Commissioner Ted Tharan, a former contractor, stated the consequences of not notifying Pennsylvania 811 could be disastrous. Clarion County Release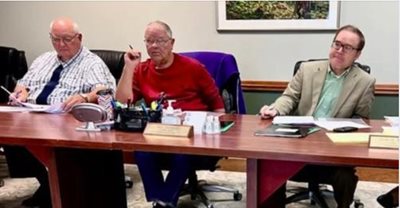 2023 SAFE DIGGING MONTH COMMUNICATIONS PLAN
Campaign materials include written communications, artwork and logos, templates, and social media hash tags and snippets.