Excavators
Any person who or which performs excavation or demolition work for himself or for another person. Notification for excavation work must be made not less than 3 business days nor more than 10 business days prior to commencing excavation work starting the day the notification is received according to the Pennsylvania Underground Utility Line Protection (UULP) law. PA Act 287 of 1974, as amended by Act 50 of 2017.
Online Tools for the Excavator
Excavator Responsibilities
Many people believe that by notifying the One Call System of intended excavation they have completed all of their responsibilities with respect to the locating process. This is not the case. Notifying is only the first step, and there are several other important considerations.
Prior to the Start of Excavation
When planning excavation activities, the excavator should consider all available site information relating to the existence of underground facilities. The position of facility marks, any subsurface utility engineering information contained on the project plans and the existence of visible landmarks such as meters, valve boxes, manhole covers and similar evidence should be included in the excavator's site assessment. If working on private property, check with the property owner to help identify any privately owned underground lines.
The excavator should plan the excavation or demolition work to avoid any damage to or minimize interference with underground facilities in the construction area. The excavator is encouraged to visit the work site prior to placing a notification to outline the area where the work will take place.
Why should you plan for excavation or demolition work?
To avoid damage
To minimize interference with a facility owner's facilities in a construction area
To gather information to include the identification of existing facilities by on-site inspection of the work site
When planning you should consider all available site information relating to the existence of underground facilities. For example: electric transformers, fire hydrants, telephone poles with conduit, traffic loops, pipeline right-of-way markers, meters, valve boxes, manhole covers, structures, bridge overpasses, catch basins, drains, specialty surfaces.
Your proposed work site should be denoted as a clearly defined, bounded area that includes relevant identifiable points of reference, such as a specific address with a specific description as to the portion of the property and distance from landmarks.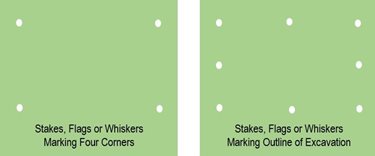 Single Locate Request
A single locate request is 1,000 feet or intersection to intersection, whichever is greater, along the same street, in the same politicial subdivision border. When you cross a border, each political subdivision will automatically get a serial number.

Complex Project Request
A complex project request means an excavation project that involves more than properly can be described in a single locate request or any project designated as such by you, the excavator, as a consequence of its complexity or its potential to cause significant disruption to lines or facilities and the public, including excavations that require scheduling locates over an extended time frame.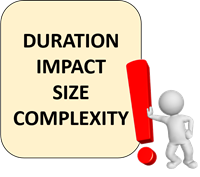 A single project, or a series of repetitive, small, short-term projects that are related in scope, that impacts facilities over a long period of time or a large area.

Single Locate Request
You can submit your locate request online or contact 811 by calling three to ten business days before you dig. Business day means any day except a Saturday, Sunday or legal holiday. A business day begins at 12:00:00 am and ends at 11:59:59 pm.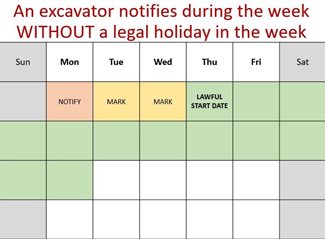 Always work with the locator to reduce confusion at the work site. Scheduling and cooperation can keep your job moving efficiently. Discuss your schedule and resources with the locators and set up a working relationship that can save everyone significant delays and confusion. It is always a good practice to document the work you do and record what safety instructions are given by the locator or field representative at the site.

Some facility owners have special policies because of the critical nature of their lines (liquid pipelines, fiber optic communications, high pressure natural gas, chemical lines) and they want to be on site when you are working near their lines. Some facilities demand special considerations and are significant enough that your risk management policy should dictate extreme care when working around these lines.

Complex Project Request
You must submit your locate request through the Coordinate PA (CPA) application. You can create a complex project from within the CPA project, and indicate a preconstruction meeting is requested. All complex project tickets requires a 10 business day notice.

CPA will enable you to:
Share project information with shareholders months or even years in advance
​Supports clear communication between stakeholder groups during project discussions
Identify project collaboration opportunities
Save money for all parties
Improve the level of service to constituents
Assists users in complying with Act 287, as amended
CPA features include:
A free web based application
A secure repository
The ability to add project contacts and permissions for each contact
Run custom reports
View virtual maps with different map base options
Import moratorium data
Share future project information at the user's discretion
Accessing CPA:
Access CPA with a valid user ID on our website (log in and set up user name/password)
Access the Web Ticket Entry application (a web based tool to enter your locate requests)
View all planned or upcoming projects either created or were granted access by the project creator
View projects which have been made public or once a locate request has been placed
You will not be able to view projects that are private
You cannot see public projects until you have been given access to CPA
Facility Owner Responsibilities
To mark, stake, locate or otherwise provide the position of the facility owner's undergound lines at the work site within eighteen inches horizontally from the outside wall or edge of a line or facility.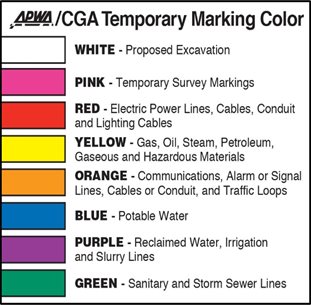 A facility owner will use the uniform color code and marking symbols to identify their underground facilities at your work site location. They may use paint, flags or stakes in the appropriate industry color, identify the facility owner who owns or operates the lines, indicate the size of the line and the type of underground lines.
Pennsylvania 811 is not responsible for the actual marking of facilities. Pennsylvania 811 is responsible for taking information from the excavator and relaying it to the underground facility owners. The facility owners are responsible for ensuring their facilities are properly marked.
Facility Owners are required to respond to all notifications. Pennsylvania 811 will collect the responses from the facility owners through the KARL system and relay it to you by email or by fax. Facility owners have the option to add notes to their response, which will be accepted, saved for viewing, and shared with the excavator.
When one underground facility owner indicates there are no facilities in conflict with a specific excavation, this does not mean that Pennsylvania 811 has cleared the site, nor does it mean oth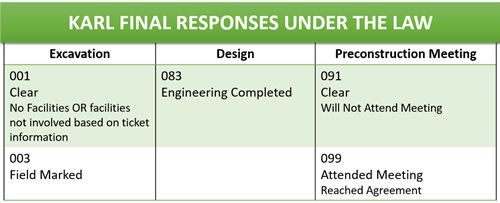 er facilities are not at your work site. You are encouraged to verify the current status of your one call request prior to commencing excavation or demolition work by going online or calling 1-800-222-6470.
The Direct Contact Rule
What does it mean to renotify?
To renotify is a re-transmit of an
existing ticket
to advise one or more facility owners of locate-related issues. If upon the initial arrival to your work site you discover an unmarked or incorrectly marked facility, you should contact 8-1-1 and request to renotify the facility owner or facility owners. This is NOT a new ticket. The ticket version number will change.

What are the three qualifying questions?:
Is this your initial arrival to the site? [Yes] The crew is currently on site
Is the site unmarked or incorrectly marked? [Yes] The original ticket was a routine ticket
Has the excavation started? [No] Excavation has not started

If these conditions are met,
the facility owner or owners will be notified and will make direct contact with you within 2 hours of the notification by visiting the site to mark or by telephone, Facetime, Skype, or other electronic means.
If these conditions are not met,
the facility owner or owners will be notified and will respond based on their company policy.
If a facility owner does not make direct contact within 2 hours, you can begin to work AFTER three hours. You must exercise due care and use prudent techniques in your work. You are required to file an Alleged Violation Report to the Commission.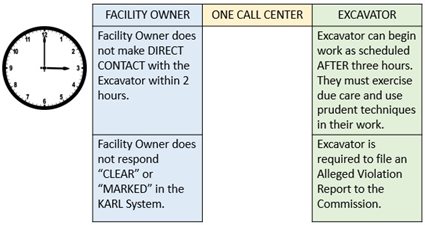 Protecting the Marks
You are responsible for the marks once the locator has left the site. Consider documenting the position of marks as soon as possible after they are placed. Be watchful of possible removal or tampering of marks. This can occur unintentionally as a result of things such as lawn mowing, normal street maintenance, activities of children playing in the neighorhood as well as normal construction activities. Please remember weather and wear can obliterate markings, too.
If you suspect that marks may have been compromised or eliminated you should contact 8-1-1 to request that the facilities be marked again.
Protecting the Lines
If and when excavation operations approach the estimated location of underground facilities, you must determine the precise location of the marked facility by safe and acceptable means.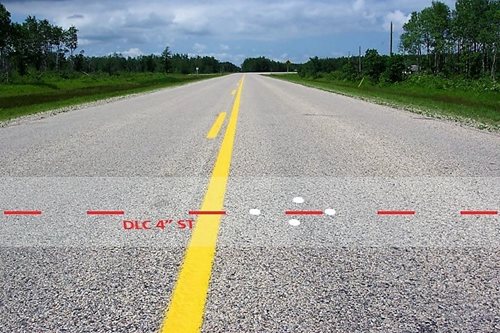 A
tolerance zone
is the horizontal space within eighteen inches of the outside wall or edge of a line or facility. Within the tolerance zone you must employ prudent techniques, which may include hand-dug test holes or vacuum excavation.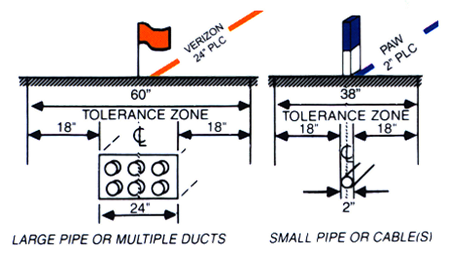 After locating the precise location of the underground facilities
through the use of prudent techniques, you must continue to exercise due care to avoid interference, injury or damage to the underground lines.
Excavation or demolition work which requires temporary or permanent interruption of a facility owner's service must coordinate with the affected facility owner or owners in all cases
Consult with facility owners on how to provide support and mechanical protection for their lines during the excavation or demolition work, including during backfilling operations, as may be reasonably necessary for the protection of the facility owner's lines
If a marked facility is not found
within the established tolerance zone during excavation, the excavator should contact 8-1-1 and renotify the facility owner. If excavation continues, prudent techniques must be used until the precise location of the facility is identified or until it has been determined that the excavation is not in conflict with the facility.
The excavator may be entitled to compensation from the project owner (the person who engages the excavator for construction or any project requiring excavation or demolition work) for this extra work.
You may want to negotiate beforehand with the project owner or include the language in your contract.
Ticket Updates
It is not required to update your ticket every 10 business days on an active work site
when:
The markings have been preserved
The equipment has not been moved off of the work site for more than 2 business days
What are the two valid reasons to update a ticket?
You can request a facility owner to mark their facilities again if the previous markings have been compromised or eliminated on an active work site; a three business day notice is required
You can request a facility owner to mark their facilities again if the work did not begin within the original lawful start date; a three business day notice is required
When Damage Occurs
If during the course of excavation a facility has been exposed and/or damaged, it is the excavator's responsibility to promptly notify the facility owner so the line may be inspected and repaired, if necessary, before being backfilled. Damage can also occur from improper backfilling around exposed utilities. You should support those exposed facilities until such time as the facility owner inspects them. Failure to notify the facility owner can result with you being held responsible for any and all damages attributable to the damaged facility.

Cathodic protection techniques are often used to deal with the earth's stray electric current where steel and other metal lines are buried. If these are damaged they may cause problems to the pipe or cable. This type of damage must be repaired by the facility owner and the damage must be reported.

When an Emergency Occurs
If the damage results in the escape of any flammable, toxic or corrosive gas or liquid which endangers life, health or property you must immediately notify 9-1-1 and the facility owner. You must take reasonable measures, based on your knowledge, training, resources, experience and understanding of the situation to protect yourself and those in immediate danger, the general public, property and the enviornment until the facility owner or emergency responders have arrived and completed their assessment of the situation. You must remain on site to convey any pertinent information to the responders that may help them safely mitigate the situation.

The requirement to notify 9-1-1 is mandated by the Act and by the Federal Pipeline Safety Act.